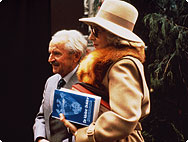 Alfred Vogel published many papers, several books and a magazine in his own publishing house. Other Swiss life reformers and naturopaths have done the same but no one has been as successful and as steadfast as he has.
The Nature Doctor'grows in popularity 'It was asked for 5,000 times within the space of a year,' exclaimed the author in surprise. And that was only through word of mouth and advertising in his magazine. With Der
kleine Doktor (The Nature Doctor) Alfred Vogel had an overwhelming publishing success. Translated into a total of 12 languages, it became a bestseller and sold well over 2 million copies. (Circulation in the Netherlands alone amounted to more than 1 million books.)
Originally written for the inhabitants of remote areas in which the doctor did not live round the corner, the guide developed amazingly quickly into a worldwide reference book for self-help and naturopathy.
First published in 1952 and 384 pages long, the book was constantly extended due to the naturopath's new experiences and knowledge and today is available in a beautifully presented new German edition with more than 860 pages. It is also available in English.
---
Read more about the stories of A.Vogel:
print