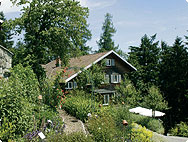 This website is protected by copyright. Unless otherwise indicated, all trade mark and image designations are the property of the Verlag A.Vogel AG and may not be used without its written consent. Access to website content and the use of the website are subject to the terms of use of A.Vogel. By visiting the website you automatically and unreservedly acknowledge the validity of these terms of use.
The website http://www.avogel.ch contains information on a large number of ailments. The website also includes a comprehensive botanical encyclopaedia. The aim of this website is to supply health-related information, information about the beneficial health effects of medicinal plants and about healthy nutrition and lifestyle to the best of our knowledge.
The content of the website may not be distributed or used for public or commercial purposes without the prior written consent of A.Vogel. For all personal and private use, copyright must be correctly acknowledged and content may not be modified in any way.
The information provided is based on current scientific evidence and is intended for information purposes only. The website has been compiled with the utmost care. However, the possibility cannot be excluded that the website might contain incorrect or incomplete information as a result of new medical insights. The information on this website may be modified at any time by employees of A.Vogel without prior notice. A.Vogel cannot be held liable in any way for the accuracy and completeness of the information provided. Verlag A.Vogel AG and its employees cannot be held liable in any way for damage in any form that may be caused by actions resulting from information on this website. A.Vogel provides no guarantee that (parts of) this website will continue to function faultlessly and/or continuously. A.Vogel accepts no liability for the completeness and legality of this website. The information provided is no substitute for specialist advice. We recommend that you consult an approved medical practitioner. This applies in particular in cases of uncertainty and of continuing or repeated health-related complaints. Information contained on this website is used at your own risk.
If you would like further information please contact:
Verlag A.Vogel AG
Hätschen
CH-9053 Teufen AR
Tel.: 071 335 66 66
Fax: 071 335 66 88
info@verlag-avogel.ch
print