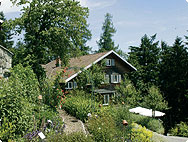 © Copyright 2014
All rights reserved. Text, pictures, graphics, sound, animations, videos and their arrangement on the A.Vogel websites are protected by copyright and other protection legislation. The content of these websites may not be copied, distributed or modified for commercial purposes or made available to third parties. Some A.Vogel websites also contain images that are subject to the copyright of third parties. You may view, print out and copy the contents provided this is for your personal use only, and not for commercial use. Reprinting, inclusion in other online services and reproduction, including storage on optical and electronic data media, is permitted only with the written consent of the legal owner.
General terms and conditions
You can download the General terms and conditions here >>
Verlag A.Vogel AG
Postfach 63
CH-9053 Teufen AR
Tel.: 0041/71/335 66 66
Fax: 0041/71/335 66 88
Publishing management
Clemens Umbricht

Editorial team:
Andrea Pauli
Tino Richter
Clemens Umbricht
E-mail address
info@verlag-avogel.ch
VAT No / Company
ID MWST CHE-103.758.625
Brand protection
Unless otherwise specified, all brand names on A.Vogel websites are protected by brand law. This is particularly the case for A.Vogel trade names, company logos and emblems. The brands and design elements used on our websites are the intellectual property of Verlag A.Vogel AG.
Disclaimer
Verlag A.Vogel is responsible only for its own contents on the avogel.ch website and the microsites it operates. Where links allow access to other websites, Verlag A.Vogel is not responsible for the third-party contents held therein. It does not adopt the third-party contents as its own. Where Verlag A.Vogel is made aware of illegal contents on external websites, it will block the access to these websites immediately.
Disclaimer
Intellectual property
The intellectual property contained in the A.Vogel website, such as copyrights, design rights, etc., are protected. This website confers no licence to use the intellectual property of A.Vogel or third parties.
Data Privacy Statement
Use of information, data protection and safeguarding privacy in the Internet
The Verlag A.Vogel AG researches and publishes health-related information under the health brand name A.Vogel. The company respects the privacy of all visitors to its website, www.avogel.ch, and ensures that any personal information that they provide is treated confidentially. A.Vogel does not disclose any personal data to third parties and will only make them available when they are required for the execution of your order or for competitions. Our employees and any third parties we commission are obliged to respect the confidentiality of your data.
Personal data
A.Vogel collects and processes personal data such as name, address, telephone number, e-mail address and other information only if these have been communicated on a voluntary basis by means of the contact form on our website or by e-mail to A.Vogel. A.Vogel processes personal data that you have provided in order to improve the service quality of the website, for example in order to update website content, to supply you with any information you requested by e-mail, to supply you with products (books, magazines and other products) that you have ordered and to request your opinion on our range of services.

In accordance with the current legal regulations relating to the protection of personal data, you are entitled to view such data at any time. A printout of the data in our possession will be supplied to you on request. You are entitled to have your personal data deleted, corrected and/or amended.
Data relating to your health
By communicating details about your health by means of the contact form on our website or by e-mail you consent to A.Vogel evaluating such data so that we may offer you optimum advice as well as information on A.Vogel products. The data will not be used, disclosed or collected in any additional way.
Your personal data are secure with A.Vogel
A.Vogel has taken appropriate organisational precautions to prevent access by any unauthorised party to the data as well as the loss, abuse or unlawful examination of the data.
Use of IP addresses
An Internet Protocol address (IP address) is a sequence of digits that is automatically assigned to your computer when you connect to the Internet via your Internet service provider or via your company's local area network (LAN) or wide area network (WAN). Web servers automatically identify your computer based on the IP address assigned to it for the period in which you were online.
A.Vogel may use IP addresses for system administration purposes and to examine the use of our website. However, we do not link a user's IP address to information that makes it possible to identify the user. This means that we record the visit of a user to our website, but the user remains anonymous to us. We may nevertheless use IP addresses to identify users of our website if we consider this necessary in order to ensure that the terms governing the use of our website are complied with, or in order to protect our services, our website or other users.
Use of cookies and Google Analytics
We make use of cookies on our website. A cookie is a small text file that is sent with the pages of our website and that is stored by your browser on your computer's hard disk. We use cookies to record your settings and preferences and to simplify shopping on our website.
We use Google Analytics to capture data on how users access our website and how the website is used. This anonymised information, including your IP address, is communicated to Google and stored on Google servers in the USA. Please read Google's Privacy Policy in order to gain further information as well as the special Privacy Policy relating to Google Analytics. Google may disclose this information to third parties when Google is legally obliged to do so or when third parties process this information on behalf of Google. A.Vogel has no influence on this.
Blocking cookies
You can block cookies in your browser's settings. Blocking cookies will only affect the computer and the browser on which you activate this setting. If you use several computers and/or browsers, you must repeat the setting as often as necessary.
Links to other websites
A.Vogel website pages may contain links to third-party websites over whose content A.Vogel has no influence. This Data Privacy Statement does not apply to third-party websites. You must check what terms of use and data privacy policies apply to third-party websites.
Our website includes buttons that enable you to recommend websites or share content in the social networks Facebook, Youtube, Hyves, Twitter and Google+. These buttons were generated using a code made available by the relevant social network. When activated, such a code sets a cookie (see above). Please read the data privacy policy of the relevant social network in order to find out what will happen to your personal data that is processed by the code.
Questions?
You can send any questions you may have regarding the Data Privacy Statement of A.Vogel to info@verlag-avogel.ch. 
print