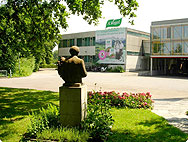 Employees
In Switzerland, Bioforce employs around 140 employees and 10 trainees.

Around 200 employees work abroad for Bioforce.

Together with the partner companies, around 500 employees worldwide work for A.Vogel products.


International
A.Vogel products are available in more than 30 countries


Business volume


The Bioforce Group generates sales of over CHF 110 million annually.


Manufacturing operations


Manufacturing operations in Roggwil (CH), Elburg (NL) and Colmar (FR)


Cultivation / production in Roggwil (CH)


Every year,
350 tons of fresh plant tincture are produced

2,300,000 products in solid form, for example as a tablet or capsule

2,900,000 products in liquid form, for example as tincture

Cultivation / production in Elburg (NL)

Every year,
250 tons of fresh plant tincture are manufactured

2,300,000 products in solid form, for example as a tablet

2,500,000 products as cream/gel

2,000,000 products in liquid form, for example as tincture


Colmar (FR)
Processing of herbs and vegetables for fresh herb seasoning salt per year: 490 tons
print